It's fun to see how those that have been designated as the G.O.A.T. measure up to each other.
Things between Russia and the USA have been kind of tense from one era to another. When labeling both countries as the G.O.A.T., one has to take a seriously historical look at both countries, in which case, Russia was there first and has been doing it longer, meaning that, yeah, they've held such a title long before the USA came to be, and became a model for our country to look at when deciding what we wanted to be like, and what we didn't want to be like. Over the years the USA and Russia have gotten along, they've been at odds, and they've been ready to reach out and smack the shit out of each other. These days it almost feels like that stupid mess is about ready to happen again thanks to Russia's need to be big, tough individuals that they kind of aren't at this time.
Granted, Russia still counts as a superpower, right? They're tough, they can be mean, and yet their country is something that lends itself well to memes in a big way. Seriously, a lot of people don't take Russia as seriously as they should, kind of like Apollo didn't take Drago seriously Rocky IV, remember? That's a bad idea just waiting to happen since like it or not, Russia and it's people are still hardy and ready to throw down when the moment presents itself. Considering that Russia vs USA military power is close to, but not quite as big as the US, it's no wonder that they haven't really decided to get that aggressive. However, if they're looking to add China as an ally, they might decide that the moment has come to cross the line of Russia vs USA size.
At the end of the day you can't help but think that numbers and statistics, who has more money, who can afford and handle the latest tech, and who has the sheer aggression to make things happen is going to decide who really has the cojones to make something happen. It could be that Russia doesn't want to go back to the Stone Age by turning itself into the biggest target, and it's fair to think that China might actually back down, kind of like this: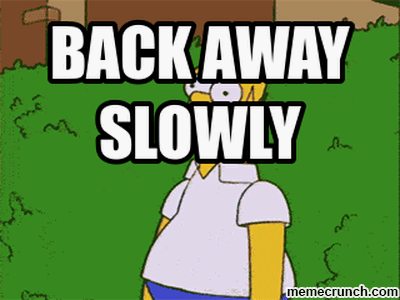 :if the USA reminds them of how ill-tempered it can be when someone decides to threaten their shores, or their allies. I mean, it could be that the rest of the world has grown tired of the bs that keeps happening the USA, but at the same time, do they really want to poke the grizzly? Even the Russians might come to regret that slugfest that would be incoming. There is, after all, a reason why both the USA and Russia have been labeled as the G.O.A.T. at various times in history, and it's not for their overall sunny dispositions. We're countries that know how to get stuff done and get other countries to reconsider the wisdom of poking the bear, so to speak, which is why a fight between the two countries would be, as good ol' Jim Ross would say, a slobberknocker.
Russia vs USA everyone can get along, right?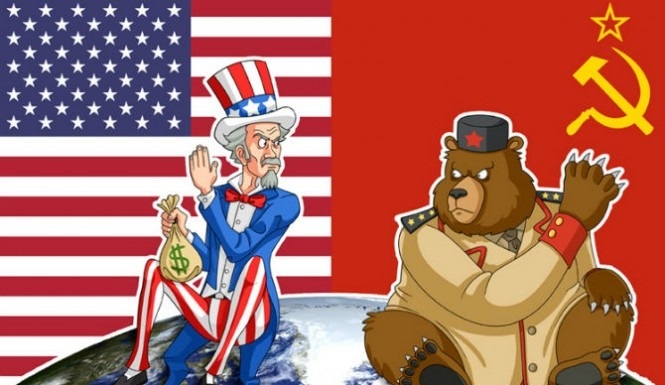 That's an interesting question, isn't it? The old GOAT and the new GOAT have been looking at each other askance for a while it feels like, and yet, you can't help but feel that Russia's sense of national pride, and the fact that they've been around a LOT longer than the USA. In fact, one could say that the states are the often temperamental teenager that continues to remind the "old country" that there's another superpower shining at this time. Granted, the old GOAT and the new GOAT aren't bound to agree on everything, and it's happened that both countries have agreed and disagreed on a number of things, but it's also kind of clear that the old vs. the new would be the kind of fight that would draw both spectators and a lot of interference from others that believe that they've been the GOAT at different times in history as well. It's kind of like a schoolyard scrap, when kids pick their favorite fighter to stand behind and cheer on, only to change their minds when they realize who might actually come out on top.
One immutable fact is that a G.O.A.T. will have a target on their back.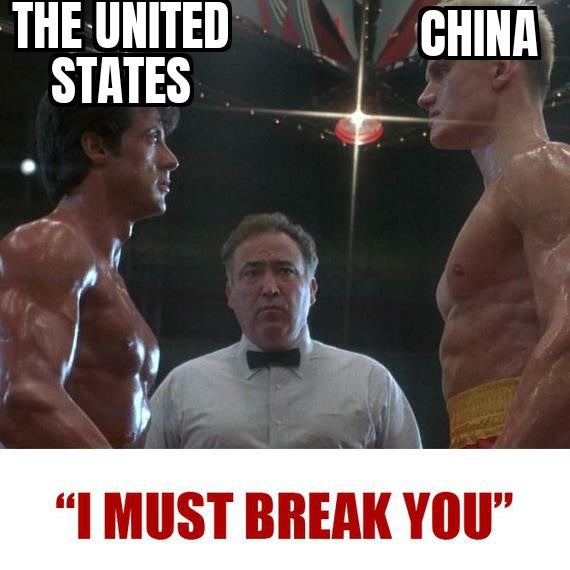 This is an undeniable truth since anyone that steps ahead and tries to lead the pack might get the feeling that people are looking up to them, but the fact is that the saying 'if you want to be the best, you've got to be the best' is very real, and some folks take that quite seriously. In fact, one could say that some countries look at the USA as more than something to aspire to, they look at it as something to overcome. The goal, sometimes, appears to be the acquisition of power that trumps our nation in ways that might make us feel small next to the vast amount of experience and pride that other countries hold. It's true that the USA has grown a lot in the 200+ years since this country made a declaration that it would stand on its own, but compared to the thousands of years that many other countries have been around, we're still up against titans that hail from histories that dwarf our own in a big way. But there are a few typical, and very American, responses to that kind of challenge.
When it comes to listing who's the true GOAT, one typically looks at military strength as one of the first things, right? In terms of a standing army, the USA isn't the superior nation, neither is Russia, but both have made the top ten in recent years. The nations that can field more soldiers than either country still aren't taken that seriously. Why? That might have something to do with the idea that Americans are just as fanatical as anyone and are often ready to 'go there' when it comes to proving who can hit the hardest. Russia isn't to be outdone when it comes to puffing out its chest and making a spectacle of itself, especially since Russia has been seen as one of the toughest nations around for many years.
But what can we say? Americans are volatile, and despite being outnumbered and in some cases outmatched when it comes to anything but military strength, Americans are the type to smile through a broken, bloodied lip and tell the big, bad bear to come get some. As for other nations, well, they've seen what the USA will do if they poke a little too hard. War isn't a great accomplishment, but it's certainly an arena where you don't have to have the biggest army, just the fiercest and most dedicated.
Americans have proven that we don't like to back down.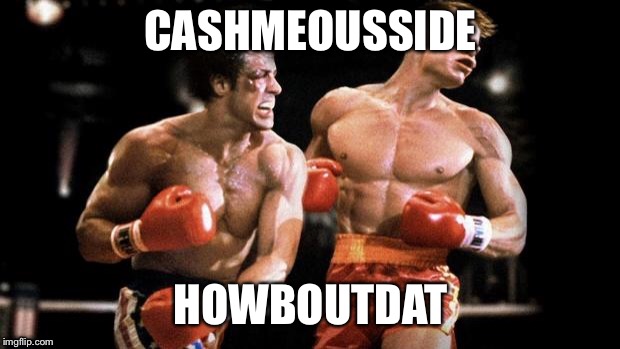 Whether it's arrogance, being hard-headed, or sometimes just the need to be difficult and not give in to others, Americans have proven over the past couple of centuries that we don't back down to others simply because they're stronger or have been around longer. True, our country has taken a very direct and sometimes lamentable approach to one conflict or another that might have been too aggressive, but when the world decides to draw America into a fight, there's no doubt that the country has taken its licks and been knocked about a bit. Hey, we're a young country, it's going to happen that we don't see everything coming and can't stand up to the powerhouses that were flexing their muscles now and then. But one thing that's been made clear is that somehow, some way, our country has managed to get back up, spit out the proverbial tooth, and get back in the fight.
It's not the smartest thing to do all the time since American has taken a its share of hits over the years. But it's been made pretty clear that getting knocked down isn't the worst part of the fight, since anyone with a little fight in them can get back up and keep going. It's what comes after the fight that really counts, and the idea that, hopefully, both GOATs will have learned something in the process. Yeah…about that…the learning process is still ongoing apparently.
The saddest part is when the fighting never really stops.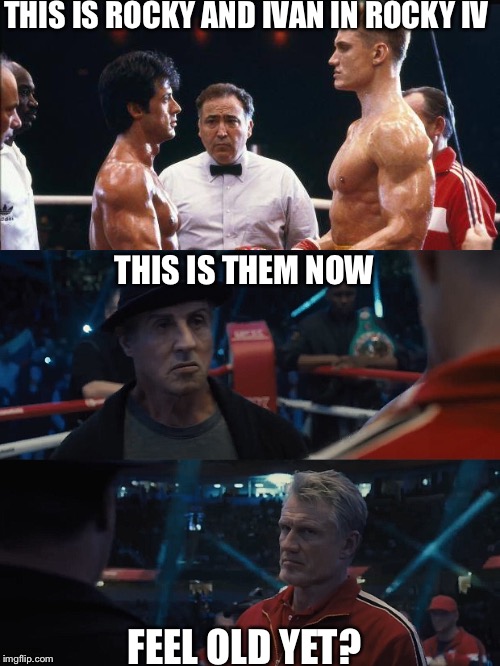 The thing about this is that the USA and Russia have never declared full-on war with each other, and a lot of people rest easier when they come to realize this. The two GOATs have circled each other, if one wants to think about it that way, and have exchanged a few unpleasantries, and maybe even roughed each other up behind the scenes over the years, but there's never been a full-on war between them, at least not in a way that would have made the world stand up and say 'Damn, it's like that?'. There's been the threat of such a thing happening, but one can't help but think that both GOAT's, the old and the new, might have come to an understanding that if they did start throwing hands openly and without reserve, the world left to the victor wouldn't be worth a damn when all was said and done. From every American/Russian reaction in real life to pop culture, it would appear that the old and young titans realize that this kind of a fight wouldn't do anyone any good, especially given the idea that many other GOATs, actual and self-styled, would want to step in and throw hands as well.
That need that others have to rush in and make allies, to make certain that they're on the side they think is going to come out on top, is as much of a schoolyard practice as it is a world practice. Because in the end, even GOATs are pretty much just big kids that never really grow out of certain behaviors.
Let's face it, every country has catcalled another country at some point.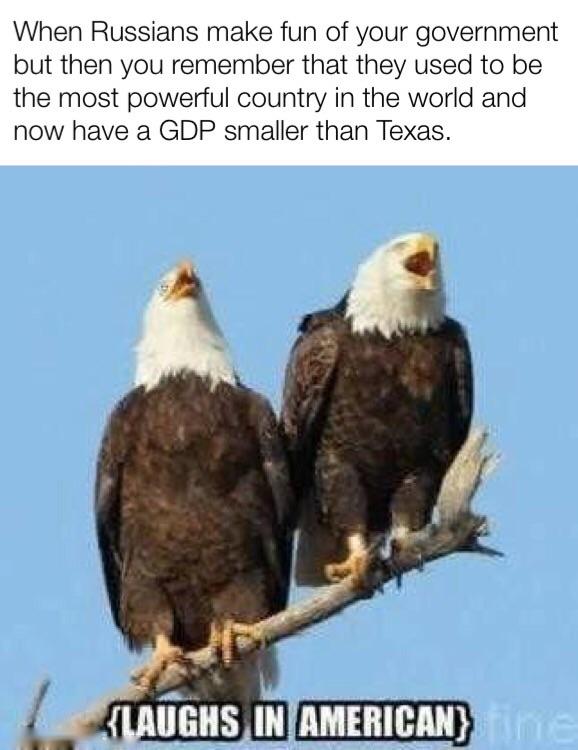 It's kind of childish, which is fitting, but just about every country has done this to each other over the centuries and the USA has definitely sounded off their fair share when it comes to the rest of the world. Sure, we're not perfect, but we certainly don't like being looked down on and thought of as 'cute' or 'plucky'. When a fraction of our country is doing better than another country in its entirety though, one can bet that America is going to sound off and make it known that yeah, we're a little arrogant, but justifiably so. Plus, where does the rest of the world think America learned that type of behavior from?
The truth is that Russia has flaunted its might, economically, politically, and militarily in the past, and while it's still a country where politics and the military hold a lot of sway, but their economy is actually worse than just one state in America, meaning no matter how much people might want to bitch about the USA, the country is thriving by comparison.
So what do you think Radassers? Is America the biggest and baddest of the bunch, or is the country just really good at obtaining allies and convincing other countries that it can hit harder? One thing about being the G.O.A.T. is that there is a target on your back at all times, and countries with itchy trigger fingers can't help but take aim.
WTR? (Why's That Radass?)
Russia vs USA no one wants a fight, this or any other, but the facts that are laid out need to be recognized by everyone in attendance. Russia was a GOAT in their time, and the USA has been a titan in our own, and there are other GOAT's out there that are ready and willing to stand up when the time presents itself. What's more important than who hits harder though is which GOAT is ready to end the fight without too much damage being incurred. It doesn't take a GOAT to get hit, it takes a GOAT to get hit and find a way forward.