Pay attention guys, it's time to make sure your preparations and expectations are set.
Here's what's kind of funny, since Valentine's Day is currently celebrated as a day when men and women attempt to curry favor with one another by buying gifts, candies, taking each other out for dinner, and generally trying to get each other into bed or at the very least a suitable match for each other. In other words, it's become a day for the candy and gift companies to push their wares as much as possible and count their money while people take the chance that their items will help them or make them look foolish. Valentine's Day is actually based off one or more martyrs named St. Valentine, and the day is a based on a Christian celebration. So to be fair, this day of amore and lust is yet another that's been given another meaning over the years. Honestly, are you surprised?
It might still be a week away, a little less honestly, but a lot of guys have likely been planning this day for a few weeks if not a month or so. Those that haven't been doing this are rather typical, but if they're smart, if any of you are smart, and I believe you are, then you'll already have something in mind if you have that special someone in your life. It's not so much about being the lovey-dovey husband or boyfriend that people think you can be, it's the fact that your woman has probably been building this day up in her mind for a while. Guys, ladies, if you haven't been planning something, no matter how big or small, for this day, then you'd better get your ass in gear, since you can bet that your significant other is thinking about it if you're not.
For those of you that don't really care about this day, more power to you, because honestly, you have 364 other days out of the year to tell your SO that you care about them. But those that want to do extra, get ready, and get ready to visit a few different stores if you're looking for that perfect gift.
Oh yes, social media will be on fire for a week or two as well.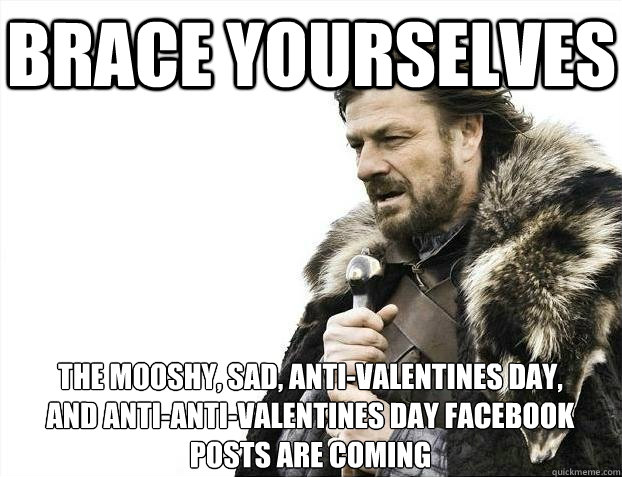 If you're not big into social media then you might want to keep your scrolling thumb limber since you can just imagine how many people are going to be gushing and giving out lovey-dovey posts online in the next week or two. There are enough people on social media that are going to be displaying hearts, cute pictures, and hopefully, sarcastic memes and posts that are all about how people really feel about this day. To be fair, it's nice to let people have their happiness and gush a bit in order to show and make clear that they're SO in love and SO ready to shout it to the stars. My advice is this…keep scrolling. You'll thank yourself later.
Don't let the panic set in.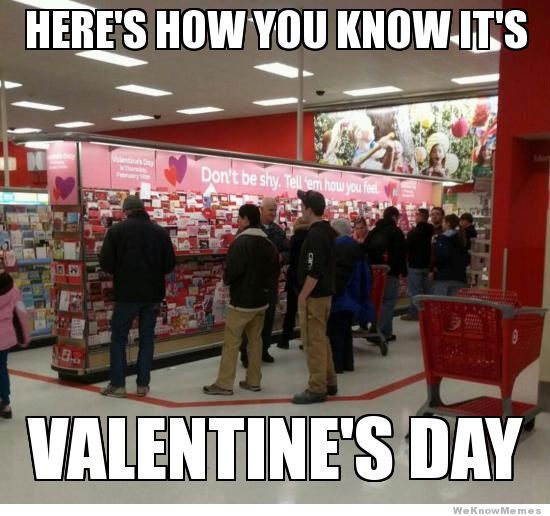 There are a lot of guys that have already lined themselves up near the card aisles of several stores and are doing their best to be polite as they shuffle up and down the aisle, growing increasingly frustrated, irritated, as they attempt to find the right card for their SO. Is it sarcastic enough, is it sappy enough, is it the right card or is she going to throw it back in your face? If you think this is bad then you should head to the seasonal aisle and say a prayer before you get within five feet of it. You're right if you think I'm exaggerating about the fight to come, but in a lot of stores it will definitely look like a No Holds Barred match straight from the WWE broke out. If you haven't hit the aisle yet, you're in for slim pickings my friends.
It can't be said enough, and you need to hear it every time.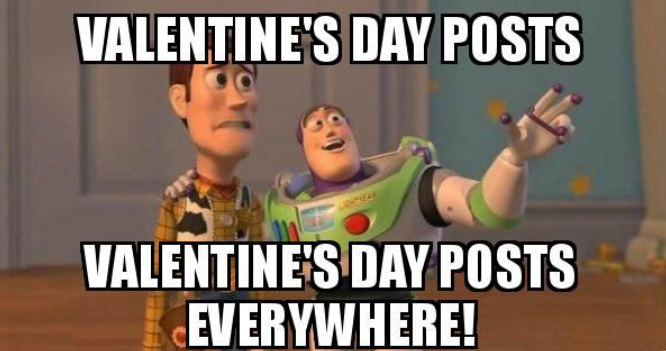 I've already gone over it, the fact that people are going to be sappy, lovey-dovey, ridiculous, and liable to gush like an overripe melon just bursting at the seams ready to spill everything. But in some ways, it's already started since some people can't help but celebrate a holiday or special day weeks in advance as they build up to the day when the pressure finally gets to bust and…well, that's personal for a lot of people. Well, it's supposed to be personal, but it turns public at some point since a lot of folks can't help themselves. The difference between posts that aren't that bad and posts that make you want to hurl is that some folks will post once and some will make a point of shoving their love in your face. Keep scrolling…keep scrolling…
Of course, we need to give some attention to those that are relationship-challenged.
If someone says that they're single by choice, just let it be. Okay, do what you will, but show a little bit of mercy to those that are actually trying to get someone to like them. Of course, those that stay single by choice might actually have distanced themselves from a toxic relationship, so learn how to read the signs. Otherwise, there are plenty of guys that are single by choice that are single because no woman wants to put up with their bs. On Valentine's Day these types usually make it clear to anyone that will listen that they're 'saving themselves' or have plenty of 'potential prospects'. I mean, it's not entirely untrue, Rosie and her five sisters are always available. The best part is they never say no or mock you, unless you're really not well…
There will be those that don't like this day.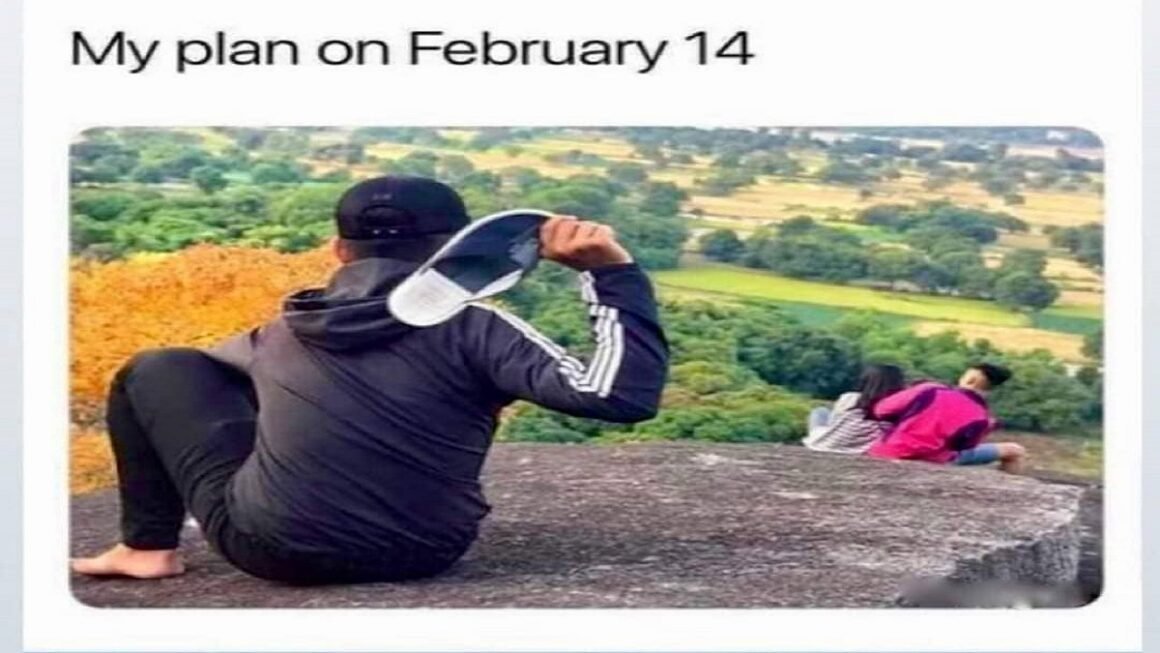 There are those that are bound to be jealous when they see the mooshy, over the top PDA's that people want to express on this day. Be patient with them, they're obviously a bit cranky because they don't have what you have. But if you're one of them, either toss your opinion and walk on or go find someone that's going to make you realize why this day has become special for those that want to show their softer sides to each other. Go sulk in silence if you need to and cuddle a nice cold beer…at least it won't laugh at you and reject you because you're 'not its type'. If it does, well…you're just kind of out of luck.
Not surprisingly, some folks don't care.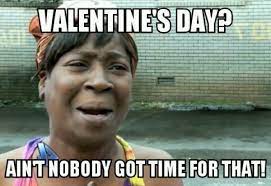 For some folks, Valentine's Day is like any other day, it's a time to work, to get things done, and to keep pushing onward like any other day. They know that they love their SO or they know that they don't need one. A lot of people want to feel loved and appreciated, but if you keep yourself busy enough you won't really need all that hype. At least that's what some folks will tell themselves, but those that know about Valentine's Day and still don't care that much about it are usually those that have been through enough of them to understand that giving their money over to Hallmark and the candy companies is kind of like throwing it down the toilet and hoping that you'll get something in return. Simple economics should tell you that this isn't a good way to spend your money. Some folks are suckers for sentiment, while others know that spending your money on something practical and saying 'I love you' works just as well. Try it, you'll be surprised.
All the same, be careful and be safe.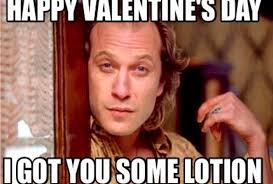 Keep in mind, Valentine's Day is just as capable of drawing the more dangerous individuals just like any other day, and those that are amorous at the same time are bound to be a little dangerous if you're not careful since they might expect something in return. There are a lot of lonely people out there that are hoping to spend their money with the idea that they'll get a little somethin-somethin' back since, well, they'll think that you owe them.
Harping about how it's important to be safe on this day isn't all that necessary, but since this is the start of our pre-Valentine's Day week, let's just say that we want all you Radassers out there to stay safe and make certain that the person you're hooking up with is someone you've known for more than a few minutes.
WTR? (Why's That Radass?)
As the article states, V-Day is coming, and we're seriously hoping that all of you are ready for it, or will be ready for it. We'll be offering advice and tips throughout the week, and we'd love to hear your take on Valentine's and what it means to you as well. Take care out there Radassers.