A woman that says 'fine' is a landmine waiting to be tripped.
Normally I'd try to be inclusive and say that this kind of thing can apply to anyone and everyone, but not this time. Oh no, not THIS TIME. Men, we've all been here at least once in our lives and if we're lucky, we learned how to avoid a second time, but let's be honest, not all of us are that lucky or that wise. We've all heard the dreaded "It's fine" from the women in our lives, be it your mother, sister, aunt, cousins, girlfriend, wife, etc. You have heard it, and you've either thought it meant nothing, or you started shaking for some reason that you couldn't rightfully decipher. It's okay, just take a breath, there are a number of reasons why women will say the words "It's fine". Just don't be surprised if a few of those reasons make you look at women just a little differently.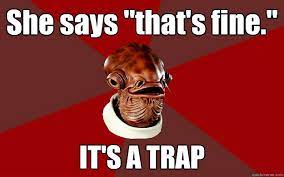 'Fine' doesn't necessarily mean 'doom'
Before you feel your spine turn to ice and your bowels loosen just keep in mind that there are different levels of 'fine' that a woman will deliver to your ears. How to determine whether you're safe or screwed is up to how well you can translate that one simple word. Here are a few of the safer meanings that you'll need to learn:
It could mean that she's tired. If this is the case then back-away-slowly. Get her a blanket, give her a back rub, anything to ease her into that dreamlike state where she'll hopefully forget what was making her angry or will at least have time to rest and reflect on it. If she wakes up angry then do what you can to stay out of her way, or maybe consider the next option.
Her monthly bill came due. A lot of guys don't want to discuss this since outside of biology class we don't know much about it and don't experience it. The smart men out there will understand that any woman saying 'fine' during this time just needs her space and is dealing with stuff that we don't know enough about. If you're wise, you'll simply do as she asks and shut your mouth for as long as is needed.
For whatever reason, she doesn't want to argue. This is really when you need to count your lucky stars, rub a lucky charm, and just SHUT UP. Don't bring it up again, don't even mention it, because the truth is that she just did you a huge favor by conceding…for now. Be smart and do not bring this matter up again, whatever it was.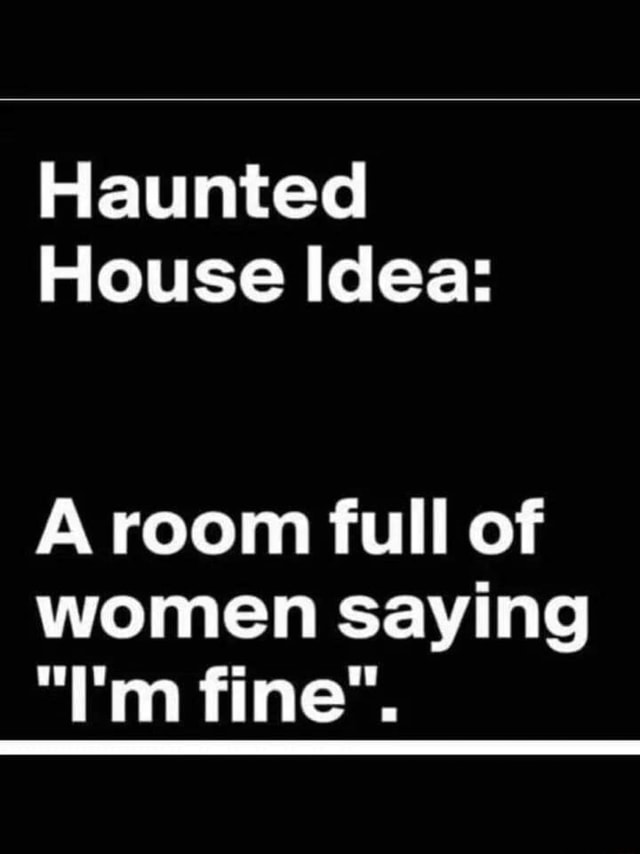 The next stage of 'Fine' is a little more serious
It's difficult to believe that such a simple word could have so many different meanings based on the emotion put into it, at least until men realize that we do the same thing, and in the process get the same result from women. But when it comes to the word 'fine', we usually mean that we're fine, or that's just fine, or something along the lines of something neutral to positive in meaning. The layers of 'fine' in a woman's vocabulary though…whoa. Here are a few that mean things are heating up a bit.
A starving woman can be 'fine' and this is when you'll hear the words 'whatever' or 'I don't know' be placed somewhere near the dreaded F word, which only indicates further trouble to come if you pick something she doesn't want to eat. She might forgive the first two or three wrong picks, but if you keep listing foods that she doesn't want to eat she's bound to get hangrier as the seconds pass by. But then again, after an hour of going from calm and composed to being hungry enough to go butcher her own cow, she might end up picking the first thing you mentioned. And even if she says it's fine, you'd be wise not to trust it.
She needs some snuggle time. It doesn't matter if you're playing a video game, watching a movie, or if you want to go out with the guys. If she needs a snuggle, then dammit, sit on that couch and hold her, even if you had plans. It's better to see to a woman's emotional well-being before you go out than to come back to a maelstrom of emotion that's been building and growing exponentially by the minute, especially when you stroll in still drunk well after midnight. If you watched House on Haunted Hill, the remake, you might get the gist of what I'm saying.
If she tells you that she doesn't want to talk about it, then it's a 50/50 chance at best that not talking about it could be the solution. Sometimes this is code for you to prod her until she finally says what's on her mind. At other times, well, it's kind of like poking a mother grizzly when her cubs are around, you will get torn up one way or another.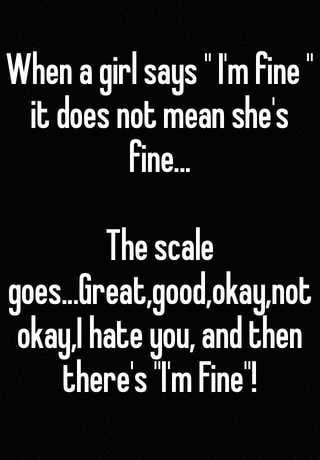 The 'Just Run' zone
So you've already seen the stages that aren't all that bad and the stages that are wise to be cautious around, but these stages, huh boy. This is when some guys would say throw chocolate at her and run, but if you take the time to throw chocolate she might get you anyway. I'm not saying that women are full-on demonic entities that will snap your back like a pencil and do unspeakable things to you when they say 'fine', I'm simply saying that there are ways to figure out what level of 'fine' you're at, so you don't have to experience that last little description. All respect to women, they're one of the main reasons we survive as a species, but where men are ominous and threatening outwardly, women tend to tuck that kind of a threat into the syllables of every word they speak sometimes. Women, I love ya…but sometimes y'all are damned scary.
She's testing your response, both accuracy and time. If you respond right away and without thinking then you might have signed your own death warrant, or at the very least will be sleeping on the couch, in your own home, for a few weeks to months. The right answer to this kind of depends on how long you've been with your SO and how well you can read her signs. If you're relationship illiterate then yeah, you're SOL bro.
Stress can do strange things to people, and this is one of the best examples since a woman who's stressed will become just as dangerous as a woman that's hungry or who needs comfort and doesn't get it. Let's face it, if a woman's life is out of whack there are times when a man's touch is needed, or it's just best for any and all men to stay the hell away. Approach at your own discretion in this case, but unless you know your SO that well, tread lightly.
She's actually ready to do some damage. Be it emotional or physical, don't take the chance, just run. Some might call you a coward for backing down to a woman, but feel free to tell them to shove off and go stand up to their woman and then talk that noise. Even a phone call from a distance is better than facing the full fury of a woman that's good and truly pissed off. Having done it before I can say that I understand the men that don't want to do this, and can respect the men that have weathered the storm. Here's to you my brothers.
Ladies, as I said, we men love you, but sometimes you're a little dangerous.
Fine is not the end of the world.
It is until it isn't. Does that make sense? No? Well then welcome to life with a SO, because this is just one of the many parts of being with someone that you'll never, ever figure completely. You can get close, you can get intimate, and you can figure that person out left, right, up, down, diagonally, and inside and out, the word 'fine' will still cause your sphincter to tighten every now and again when you hear it. If you believe nothing else, believe that.
WTR? (Why's That Radass?)
Guys, it's not a matter of enduring a few 'fine' moments when a woman looks at you and utters that dreaded word, and I wish it was all fun and games. The truth is that when a woman says fine you should feel a chill run down your spine. Whenever this happens to you, don't panic, but don't just blurt out the first thing that comes to mind either. Just walk away, because sometimes it's the best idea.